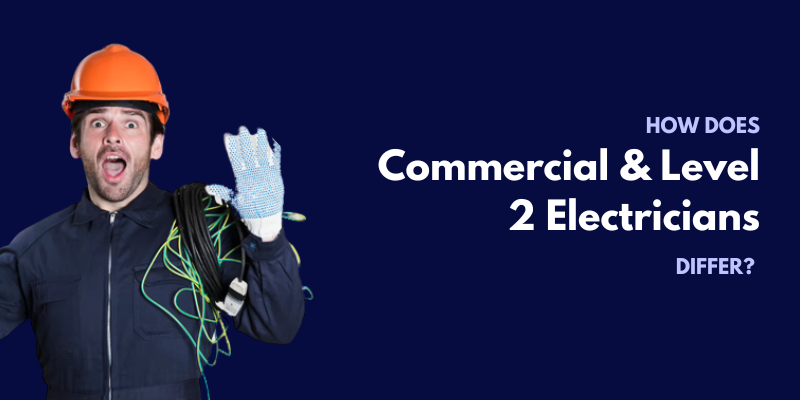 Commercial electricians and Level 2 electricians have crucial roles to play in Australia's vast domain of electrical services. At first glance, their responsibilities might seem similar, but vital differences set them apart. Understanding these differences can help businesses and individuals to make an informed decision when looking for electrical expertise.
Here, we'll look into the differences between commercial and Level 2 electricians by looking at their respective scope of work, qualifications, and specialisations.
Commercial Electricians
Commercial electricians possess the training, knowledge, and skills to install, repair, and maintain electrical systems in commercial settings, such as offices, warehouses, industrial facilities, retail stores etc. Their primary focus is on commercial properties' electrical infrastructure, including power distribution, control systems, wiring, and lighting.
A commercial electrician's responsibilities cover different tasks, from installing electrical fixtures and outlets to troubleshooting electrical issues and performing regular maintenance.
Commercial electricians work with engineers, architects, and contractors to ensure that electrical systems are installed safely and in abidance with relevant regulations. Commercial electricians are well-versed in interpreting blueprints, understanding wiring diagrams, and adhering to local electrical codes and safety standards.
If an individual wants to become a commercial electrician in Australia, they must complete an apprenticeship program and obtain relevant certifications, such as a Certificate III in Electrotechnology. It is a comprehensive training program that equips them with the required skills to manage commercial electrical projects safely and effectively.
Level 2 Electricians
Level 2 electricians have higher expertise and are authorised to work on the electrical supply network. They are responsible for handling complex electrical tasks beyond commercial electricians' scope.
Level 2 electricians are qualified and trained to install and repair underground and overhead service lines, connect and disconnect the power supply, and work on the electrical metering equipment.
Level 2 electricians specialise in managing aspects connected to the power network, including installing electrical poles, consumer mains, metering equipment, and service fuses.
Level 2 electricians require completing additional training and certifications. They must complete Certificate III in Electrotechnology (Electrician) and receive specialised training to obtain the Level 2 Accredited Service Provider (ASP) certification. This certification gives them the authority to work on the electrical network owned by energy providers and enables them to deal with more complex electrical projects.
Key Differences
The key differences between commercial and Level 2 electricians are their scopes of work and areas of specialisation.
Level 2 electricians possess the expertise to work on the electrical supply network, including power lines and metering equipment, whereas commercial electricians work on electrical systems within commercial properties.
Level 2 electricians deal with more complicated tasks, including connecting or disconnecting the power supply, managing service lines, and addressing network faults. While commercial electricians mainly deal with installations, maintenance, and repairs of electrical systems in commercial properties, ensuring compliance, functionality, and safety.
Certification requirements are another key difference. Commercial electricians require completing a standard apprenticeship program and obtain a Certificate III in Electrotechnology. On the other hand, Level 2 electricians must receive specialised training to obtain the Level 2 ASP certification apart from the standard qualifications.
Final Thoughts
Whether it's a commercial property that requires electrical system upgrades or an intricate task that involves the electrical supply network, calling the right electrical professional to handle it is crucial.

When you need Level 2 electricians in Sydney, call Eris Electrical at 0402 685 118, and our team will gladly assist you. We are available 24 X 7 for emergency service.