AGL New Connections
Electric Meter Installation, Repair & Replacement
Eris Electrical Services provides customised offerings to energy retailers, electricity authorities, large commercial and industrial customers as well as consultants who form the complete metering value chain. We have a team of professionals who are highly experienced and skilled in mass meter replacements, meter breakdowns, and maintenance services. Our expert team is committed to ensuring the best safety levels are maintained while exceeding customer's expectations and making sure optimal delivery is rendered.
Energy Meter Installations, Testing, Service & Repairs
Eris Electrical Services provides installations, ongoing maintenance and asset management for the life of customer's meter device. Meter Provider Installer (MPI) services comprise the terms and installation of compliant metering within the NEM Type 1-4 and type 5.
We ensure the adherence of our customers' metering installation via testing, inspections and audits including: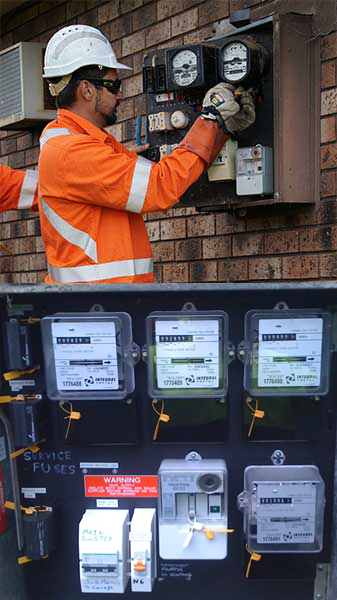 Operational checks.
Specific meter installation procedures as approved by AEMO.
Inspect the wiring.
Inspect the current/ voltage transformer ratio.
Voltage/ current phase relationships.
Verification, calibration, accuracy, and fault testing.
Our Metering Services Include:
Solar gross to net replacement.
New connections
Volume electricity meter exchange.
Current transformer testing & visual checks.
Customer originated testing & investigation.
Installation of type 1–4 & type 5 meters over the national electricity market.
In place compliance and sample testing programmes
Site and equipment investigations and on-site meter reprogramming.
Meter disconnections, reconnections, and restrictions.
Detection of irregular connections and equipment defects.
24hr Faults and repairs to energy retailers devices
Private Poles Supply Services:
Temporary metering system installation, connection, repair, replacement, and removal.
Provisional pole and switchboards installation and dismantling.
Temporary private pole and power supply for building/construction firms.
Eris Electrical is authorised by Electricity Distributors of New South Wales, Endeavour Energy, and Ausgrid.