Smart Electricity Meter Installation & Replacement
Looking To Change Your Smart Solar Meter?
The current NSW Solar Bonus Scheme will come to an end on 31 December 2016
To combat this, the NSW government is introducing new laws to make it easier for retailers to offer households smart meters, which allow monitoring of electricity flows to and from the network.
Effective from 1 July 2016, Smart Meter Roll Out in NSW has been initiated by the Australian Government. Up until 1 December 2017, having a smart meter installed is voluntary for customers. From 1 December 2017, all new meters installed must be smart meters. – Resourcesandenergy FAQ

---
What does the scheme closure mean for you?
A reduction of your feed-in tariff from 20c/kWh or 60c/kWh, which you currently receive, to 6.1c per kWh
A change from 'gross' to 'net' metering – see below for definitions
You'll need to upgrade to a new smart meter to ensure you get the most out of your solar power system.
"Smart meters are required for customers to switch from gross metering – the current situation – to net metering, so they can potentially power their households with solar panels and sell any excess back to the grid." SMH Article
We're here to help make this transition simple. We can easily carry out your electric meter replacement and help you get the benefit of this smart meter rollout. SMS Your Photo of Your Meterbox and Electricity bill on 0402 685 118.
We can give a fixed price before we attend, and order the electricity meters from the relevant distributors. For some customer, we can do the job on the same day…
---
What is net metering?
When energy is generated by the solar panels on your roof, the power will first be sent to your house to be used by your appliances, lights, etc. Any excess energy that isn't used will then be sent to the electricity grid and you'll be paid a rebate for supplying this power.
Net metering measures how much energy you take from the grid as well as how much energy your solar system puts back in and charges or pays you accordingly (depending on whether you have used more or less energy that your panels generated).
---
What is gross metering?
When energy is generated by the solar panels on the roof of your property, it's sent directly to the electricity grid where it will be available for use by anyone connected to the grid.
When your property needs power, it will draw the energy for this directly from the grid. Gross metering is measured with two separate meters (one measuring the energy that is feed into the grid and the other measure the energy used by your property) so it's easy to assess what comes in and out.
Gross metering is only available in ACT and NSW, and at the end of 2016 all households in NSW that are currently on gross metering will be required to change over to net metering.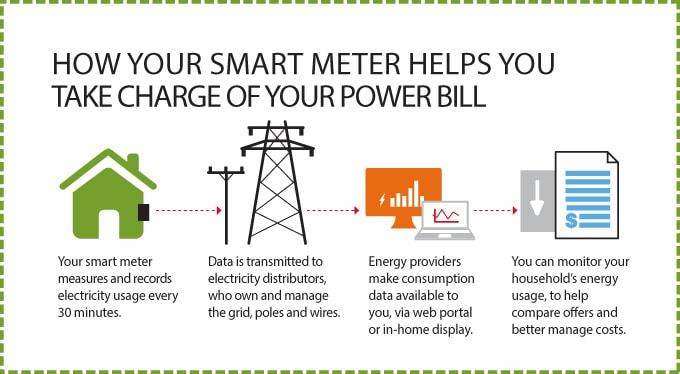 Make a switch today call Eris Electricals for Fast & Easy Smart Meter Replacement.