Your energy distributor may issue a defect notification to you if they find a structural defect during an inspection. A defect could include damage to your power pole, which affects the wholeness of the structure, including rotting or rust formation, damage to the actual physical pole or the power pole may be unstable or bending.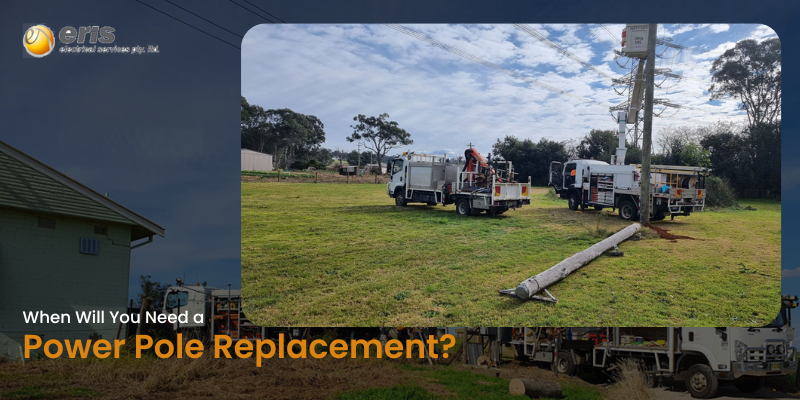 Your private power pole's structural failure could inflict a substantial safety risk, such as power interruptions to your energy distributor's power network, which can likely cause a fire hazard or electrocution. 
What Should I Do If I Receive A Defect Notification?
When you receive a defect notification, you'll generally get 30 or 90 days to fix the private power poles from when the notice was issued. A qualified Level 2 electrician should perform the work of replacing the private power poles. A Level 2 Service Provider should mediate with your energy distributor to submit the necessary notification of required works. Your Level 2 electrical contractor also needs to mediate the disconnection and re-connection of power before performing any work and after work where needed.
Eris Electrical has qualified and experienced Level 2 electricians who have carried out many private power pole replacements and will offer a hassle-free service from start to finish, including all needed coordination with your energy distributor.
Suppose your energy distributor does not obtain a notice from a qualified electrical contractor for the required works. In that case, they may issue a power disconnection notice date if they regard your private power poles as a safety hazard.
How Much Of Time Is Needed to Replace a Power Pole?
Upon hiring a qualified Level 2 electrician to perform the required works to change your private power pole and your energy supplier notified, the electrical contractor can do the work as soon as it is convenient for them and you.
Suppose the power pole replacement needs your energy supplier to disconnect and reconnect power. In that case, Eris Electrical will ensure power breakdowns are kept to a minimum through mediation with your energy distributor and you. 
At times, a delay might happen in the rare occurrence where your energy distributor is unable to attend as planned and scheduled because of other impending priorities, including emergencies or attending to power outages. 
Eris Electrical will provide transparent timelines and communicate our planning to ensure minimal interruption to you during the work. Probably, power will get restored on the same day or the next day.
What Will It Cost to Replace My Power Pole?
Quote will vary depending on the work; contact Eris Electrical to receive a free quote for your power pole replacement. 
Eris Electrical will examine your power pole and offer a transparent quotation detailing the works needed for your power pole replacement and including all relevant fees of your energy supplier related to the work.

Eris Electrical's qualified Level 2 electricians will be your single point of contact to complete your work. You'll only have to mediate with Eris Electrical, who will organise the power pole replacement work with experienced Level 2 electricians.