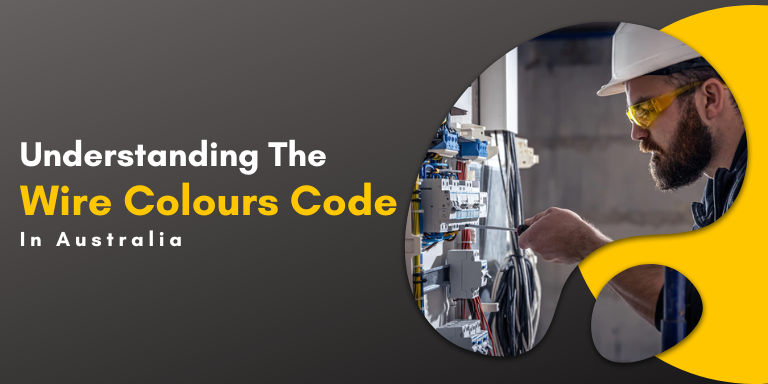 The Australian electrical wiring colours coding standard was made in 1894 and is the universal system for colouring wires. Since 2000, it has been mandatory to follow the standard, which has become a regulated code. It is also endorsed by the Australian Standards Association (ASA). You must understand the codes for each wiring colour, which will facilitate you to work safely with wiring within your home or as part of a commercial business.
Here is a simple guide that decodes various wire colours:
Single-phase wiring colours: Red, Orange, Yellow, Green, Blue, Brown, Black, White
Three-phase wiring colours: Red, Green, Black, and White
Single Phase Wiring Colours
Yellow: A yellow colour-coded wire indicates that the wire is grounded, generally above the ground. Yellow coding is usually overlapped with green-coded wires. Yellow wires transmit power, which acts the same as blue wires.
Red: A red colour-coded wire indicates the wire is live. More explicitly, red indicates conductors that are single-fibre, four-fibre or a twisted pair.
Orange: An orange colour-coded wire works like red, indicating a live conductor. The orange-coded wire differs in how it works; it transfers a voltage when joined to a socket but not when it is grounded.
Blue: A blue colour-coded wire indicates one of the two types. The wire is Earth Return (ER) or Earth Line (EL). Blue wires transfer power but are not used within the electrical device's outlet wiring.
Green: A green colour-coded wire indicates that the wire is earthed or grounded. It usually comprises a single paint coat and is marked in parallel with another neutral wire.
White: A white colour-coded wire indicates general and signal wires. You can also use white wires to reveal a neutral wire.
Black: A black colour-coded wire serves as a neutral wire. These wires are responsible for transferring the circuit back to the power source. It enables current circulation through the whole system.
Brown: A brown colour-coded wire is a shielding earthing wire. It's generally used for underground installations—brown-field grounding for marking neutral wiring.
Three-Phase Wiring Colours
Black: In the 3-phase wiring, black wires indicate Neutral wires known as N.
White: In the 3-phase wiring, white wires indicate Line 2 wires known as L2 – a live wire.
Red: In the 3-phase wiring, red wires indicate Line 1 wires, also known as L1 – a live wire.
Green: In the 3-phase wiring, green wires indicate Earth wires, also known as E – it earths the system.
Colour Codes In Older Homes
Depending on the lifespan of the conductor, the wiring was colour coded in older homes. For instance:
Yellow:The conductor is designed to only reach a preset length of wire before attaching to an earth wire.
Red: The conductor is designed to continue its travel beyond the preset length and can link to a signal wire.
Contact Eris Electrical

Call Eris Electrical when you need a reliable electrician in Sydney. We provide dependable electrical services for residential and commercial properties in Sydney and surrounding areas. Our electrical solutions include power pole installation and replacement, metering services, smart meter replacement and switchboard upgrades. Contact our professional and friendly team today to book a service or to arrange a free consultation and quote.