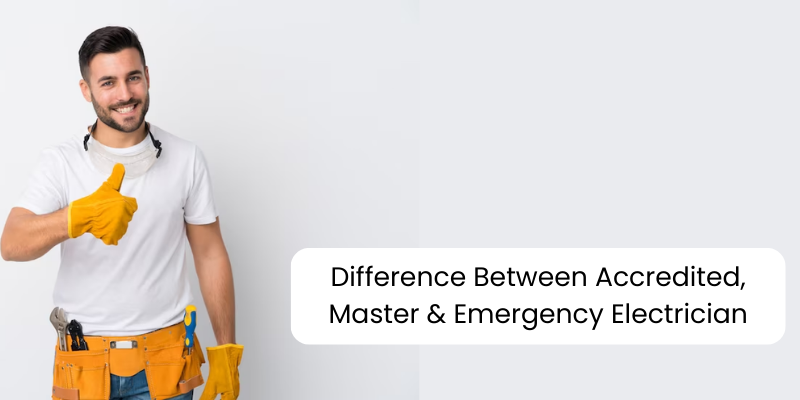 It's imperative to understand the various types of electricians and their specialised roles, which will help you call the relevant qualified electrician for the electrical job. So, how do an accredited electrician, a master electrician, and an emergency electrician differ? Each title requires unique qualifications and responsibilities catering to specific electrical needs.
Here, we will look at these three types of electricians, uncovering the expertise each one brings and when you might need to call upon their services. Whether it's urgent situations, advanced electrical projects, or routine maintenance, knowing which type of electrician to choose can make a significant difference in the safety and efficiency of your electrical systems.
Accredited Electricians
Accredited electricians are also known as Level 2 electricians. They have the right qualifications to handle various complex electrical tasks. They're licensed to fix electrical problems in residential, commercial, and industrial areas. You might need a Level 2 electrician to connect or disconnect your property from the power network when you need service lines fixed or installed or to install an electricity meter. If you hear someone being called a data cabling electrician, they're also a Level 2 accredited electrician.
Emergency Electrician
The accredited electrician in Sydney you find online should have the qualifications to handle emergency electrical repairs. An emergency electrician is mainly the one you can call when there's a sudden electrical problem that needs fixing right away. They may be available on-call 24/7, year-round, to deal with issues that could be risky for property owners.
A 24/7 electrician might come to your place for the following reasons:
If you notice strange sounds, sparks, or electric shocks from outlets.

If you smell burning from an appliance, indicating it's overheating.

When your main power goes out or fuses blow.

If your electrical safety breakers won't stay on.
So, the critical difference between these two types is about urgency. An emergency electrician comes to handle urgent problems, while a regular callout is usually for setting up or disconnecting things in a place.
Master Electrician
A master electrician is a certified electrician recognised by Master Electricians Australia. Your electrician in Sydney must be a Level 2 Electrician with at least three years of experience in the field. They also need to meet specific requirements, like providing energy advice to clients, implementing safety measures, and offering twelve-month guarantees on their work. Once they meet these standards, they are regularly audited to ensure they maintain these high standards.
Why Is It Essential to Hire a Licensed Electrician?
Perhaps, you can handle the electrical work yourself or have an unlicensed friend do it. Although this may initially appear cost-effective, it could become much more expensive in the long term. If anything is done improperly, you may need to hire a qualified Level 2 electrician to redo the work entirely and rectify the previous mistakes. Most importantly, any work an unlicensed electrician performs can pose safety risks. Faulty work might not become apparent immediately, but it could become a significant issue days, weeks, months, or even years later, forcing you to call in a 24-hour electrician to resolve the problem, which could incur higher costs.

When you need the services of a Level 2 electrician in Sydney, call Eris Electrical, an accredited Level 2 service provider you can rely on.